With Momoyoga, you can now create uniquely designed Events to make your specially organised workshops, retreats, and gatherings really stand out in your schedule.
From full moon circles, yin yoga retreats to sound bath ceremonies - whatever the event, we've got you covered.
How do Events differ from regular classes?
Thanks to Momoyoga's latest feature, you can now distinguish special workshops and gatherings from regular classes with two keys features:
Events will stand out more visually, highlighted by a surrounding banner with a beautiful image, making the theme of your retreat, workshop, or chosen event really pop.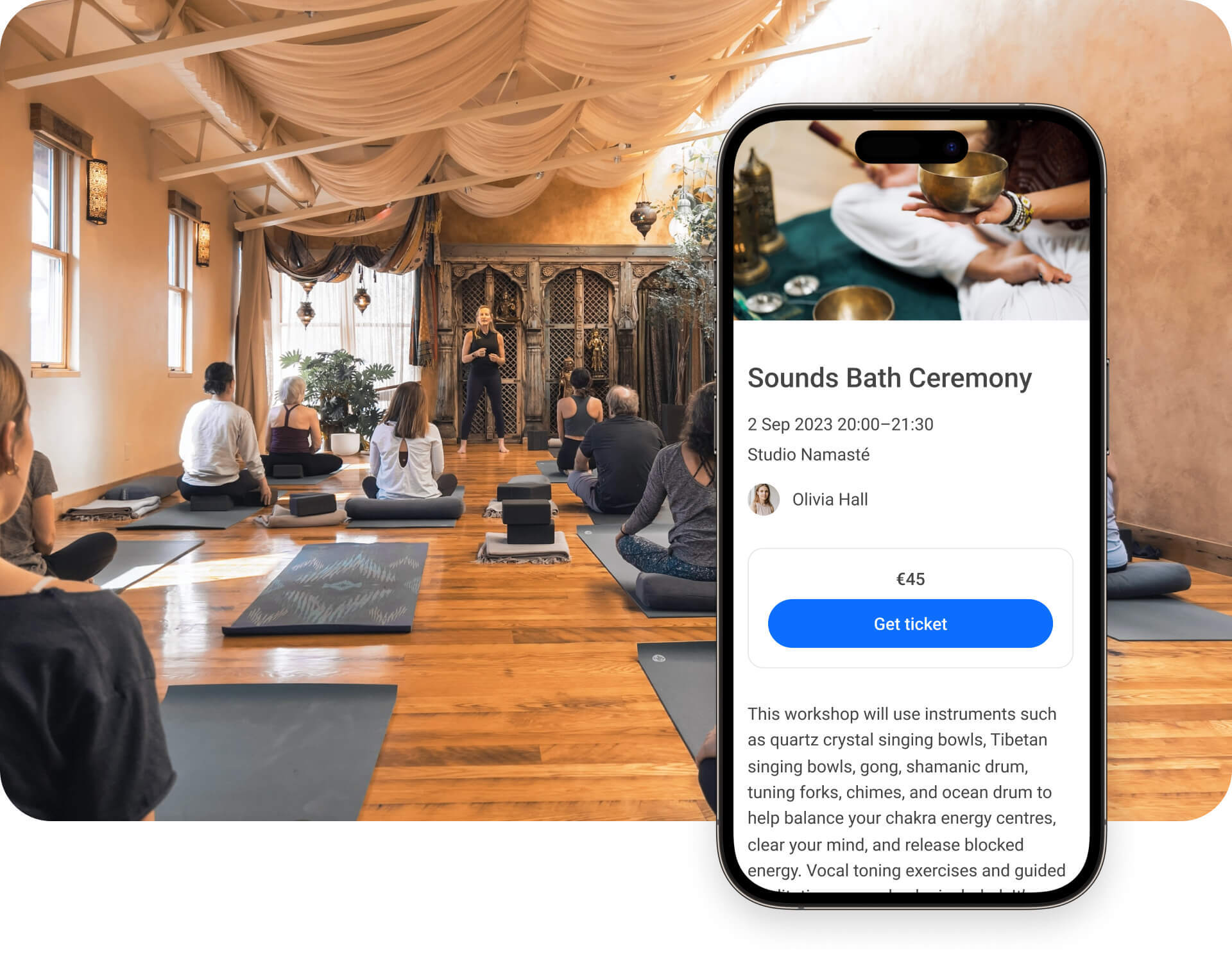 Events will be sold through a ticketing system enabling your yogis to gain access to your event without a membership or class pass, granting you more freedom and flexibility with passing-by yogis and one-time clients.



How can I add an Event?
To add an event:
Log in to your Momoyoga account
Go to your Admin space
Click on Events in the header menu
Fill in the fields:
Name
Description
Make sure to add a beautiful image to make your event really shine.
Add a ticket price or offer the event for free. Please note that the free ticket feature is only available for Professional and Studio plans.

Make sure to add any relevant information in the Comments section, eg: Don't forget to bring a notebook and towel
Click Add Event
How can I edit an Event?

With Momoyoga, you can edit your Event to suit your studio's needs, eg: an Early Bird Price, and later adapting the price according to your Late Bird options.

To edit your Event:
Go to your Admin space
Click on Events in the header menu
Select the Event you wish to edit
Click on Edit
Make your modifications wherever necessary (name, description, ticket price, ticket name).
Click on Save once you're done
This newly updated information will be applicable to any yogis who purchase this Event from now on.


Can a yogi cancel their ticket purchase for an Event?
A yogi cannot cancel their ticket purchase for an Event as the terms and conditions surrounding Events may be stricter and may not enable a full refund, such as with Early bird prices or down payments.
Only the admin and teachers with extended access will have permission to remove a yogi from their Event.

To remove a yogi from your Event:
Go to your Admin space
Click on Events in the header menu
Select the Event from which you wish to remove the yogi
Click on Cancel in the bottom right-hand corner, next to the yogi's name
Confirm the cancellation by clicking on Cancel Booking
Your yogi has been successfully removed from this event. However, please note that this does not automatically refund your yogi for their purchased ticket.
To refund the yogi for their event ticket purchase you simply need to click on the order itself and select the event, then Refund.


What are some Event ideas?
Events can be any class, workshop, or gathering you choose to shine the spotlight on, but to help you out, we thought up a few ideas:
Sun-kissed retreats at home or abroad
New moon or full moon circles
Cacao ceremonies
Sound bath ceremonies
Yoga teacher trainings
Women's or Men's healing circles
A weekend meditation retreat

Feeling inspired?
✨Share your upcoming event on social media with the hashtag
#momoyogaevents,
and we'll be sure to repost it for further visibility. ✨