If you are teaching online classes, there is a good chance you're already utilizing Zoom. And did you know that with certain pricing plans, Zoom will record and host your videos on their cloud? You can also you this functionality to share your Zoom recording with the yogis who have registered for your class.

Benefits of sharing your Zoom recording
If you are going to be teaching online classes anyway, why not reap the benefits of sharing your Zoom recording with your yogis. Here is why sharing your Zoom recording is a win-win:
Flexibility: Teaching online allows you to teach yogis all across the world. This means that you could be teaching while some of your yogis are sleeping. Offering a Zoom recording of your live class means that your yogis can take the class again whenever fits their schedule.
Revenue: With this increase in flexibility, could increase the number of yogis signing up for your class, which, of course, increases your revenue.
Sharing your Zoom recording
Sharing your Zoom recording with the yogis registered for the class is simple. After the class has finished, and Zoom has notified you that the cloud recording is available, you can navigate to the online class and add the Zoom recording link and passcode to the additional information text box on the Edit Class page.
Tips for setting up your Zoom account
Please note we do not offer in-depth Zoom support, so for full details please check Zoom support on cloud recordings.
To share your Zoom recording through Momoyoga, you will need to share the link provided by Zoom. You will not be able to download the file to your computer and try to re-upload it to Zoom or Momoyoga. To share your Zoom link, login to Zoom, click Recordings, Share.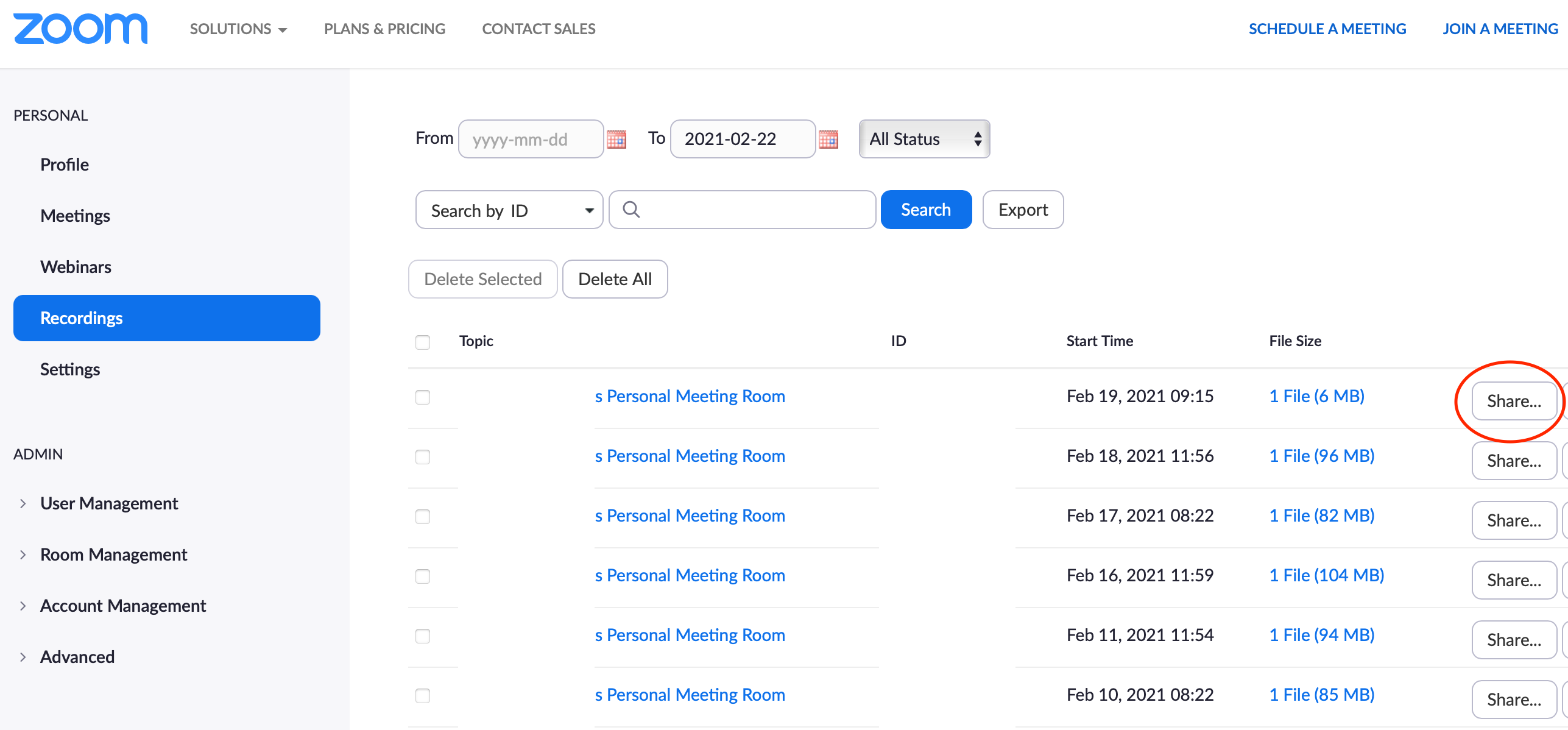 The Zoom recording link will be available for your yogis to view for as long as you let them. If you would like to put an expiry time on the recording link, you can do so by selecting Add expiry date to the link. Once you have adjusted your share settings, you will click Copy Sharing Information and paste it in the additional information text box in Momoyoga's Edit class page.
​If you want to Trim your Zoom video, to hide the introduction or closing comments when people are talking and on camera, you can click the individual video links (e.g. YOUR NAME's Personal Meeting Room), click the play button, and then the scissor icon. You can then drag the slider bars to trim the ends of the recording.