Have you searched through the Help Center, checked out all of our Success Guides, watched our Instructional Videos, and still can't find an answer to your question? You can easily reach us at info@momoyoga.com. We offer online email support on weekdays between 9:00 AM and 4:30 PM CEST.
In order to help you out as efficiently as possible, please check out this article to find out what we need from you when you send us an email.
We're real and friendly humans 👽
Our customer service is personal. Our support team consists of real, friendly, humans working from our office in the Netherlands. We love hearing from you, personally answering your questions, solving your problems as quickly as possible, and helping you set up your account. We also love receiving your feedback on the software, because we can learn a lot from all yoga teachers.
Our take on phone support
We don't offer phone support because we honestly don't believe it's possible to provide the same effective assistance over the phone. Plus, this allows us to keep the fee we charge for Momoyoga as low as possible. We try to keep Momoyoga simple. Without guidance or training, you should be able to get started with Momoyoga.
For some customers, a lack of phone support is a deal breaker, and that's completely understandable, but it's not something we offer. That's why we'd like to explain our main reasons for choosing online support (please don't hate us 🥺):
From our computers, we can look into your account, check your settings, check our database, consult coworkers and access other information. This way, we can troubleshoot instantly without long phone wait times.
Building and maintaining software is mainly a visual process. We frequently ask you to send us screenshots, complete descriptions, examples, and links that help us see exactly what you're seeing. Likewise, we can also send you complete information with screenshots, links, and other details so we can help you as effectively as possible and so you can easily reread the information in your own time.
We can quickly get to the bottom of the issue and look into the details without putting you (or other customers) on hold.
We can manage and use our time more effectively. This allows us to be faster and to work and plan more purposefully. This way, we can service many customers in one day.
With online support, we can collect and register all the data in one place. We can sort this data and use it in plans to write up processes for the development of the software. Furthermore, we'll always have access to previously asked questions and won't ask the same question as frequently, because we can access older information in earlier email conversations.


How our decision came into being (by our co-founder, Ingo)
Your start-up is shaped by the infinite number of small choices that you have to make. This starts from day one and—in Momoyoga's case—has been ongoing for the past five years. Because of all these choices, we now have created a company that we're proud of and enjoy working at.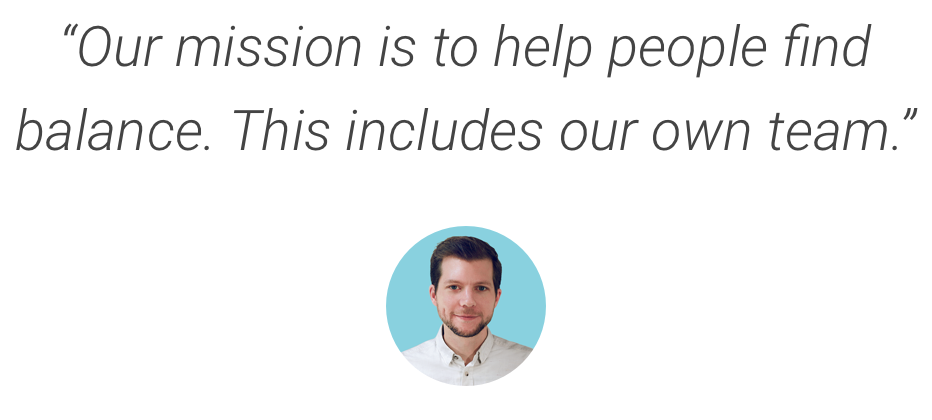 Joost and I are both entrepreneurs that love helping people. If you run into us on a Saturday morning and ask us about Momoyoga, we'd gladly answer your questions. At the same time, we know that you can only run a sustainable business if you handle your time well. We both know many burnt-out entrepreneurs that still picked up the phone on a free night to keep the customer happy. That's not how we want to design our life: we work to live and don't live to work.
A good way to combine customer service with a healthy work-life balance is by making this process asynchronous. Email is perfect for this: you can ask questions 24/7, you can answer questions 24/7, but it doesn't all have to happen at the same time.
We apply this asynchronous approach to Momoyoga all the time. Our team works hard to make Momoyoga the simplest and most intuitive yoga studio management software. Because of our asynchronous approach, this isn't at the expense of everything: we lunch together every day, have regular meetings, if you need to go to the dentist, or if you're a night owl—we'll accommodate you.
Our philosophy: we believe everyone has a right to a healthy work-life balance. Between studio management and time on the mat. We want Momoyoga to give you back your time, for both your personal and professional growth. This includes our own team.