Woohoo! Back to school. What a beautiful moment. ✨
Since the Covid-19 outbreak, we've been talking to hundreds and hundreds of studio owners. Are you planning to reopen your doors? What precautions do you need to take? We'd like to share some of our insights and tricks with you. This guide might help you prepare and make the right decisions to open your studio's doors again.
The basic rule of thumb: Do everything within your capacity and possibilities. At least show that you did everything possible to make your yogis feel comfortable coming back to your studio.
May the tips and tricks in this article guide you through this process. We're excited for you.
Namasté 🙏
The Momoyoga Team


Your yoga business has the potential to become a powerfully positive part of your students' lives. Momoyoga is a simpler and easier way to manage your yoga classes, bookings, payments, and yogis all in one place.

Reach out to your yogis
Most likely you have not seen them for a long while. Nor have you spoken to your yogis like you usually would do on a weekly basis. Now is the perfect time to reach out to them. Sending an update on your studio's current status. What have you been doing, working on, what are you doing now and which precautions have you taken (or are taking) upon reopening. Hopefully, you can also give an estimate (or even a set date) on when you will welcome your yogis back into the studio.
Take this occasion to also inform your yogis about coming classes, promotions, or a new schedule you may have. Or keep it simply just about all the measurements you are taking for the yogis to be able to return to the studio soonish.
Reach out to your staff
Reopening your studio is not just about opening the doors. Everyone involved in your studio's business will get back in action as well. So inform your team. Make a presentation, have a speech, or whatever suits your style. This is a time to take initiative. Depending on your studio's size, we'd even go as far as to advise you to show leadership. Now. More than ever.
Check-in with each of your staff individually. How do they feel? Both physically and mentally. Getting back to work will probably mean a change in their now-new daily routine. Regardless if it respects a floor manager, someone at the desk, a host, or someone teaching just only one or two classes per week. Things will change. Even if it might feel like getting 'back to normal'. Do not simply assume that changing 'back' is easier than the shift made upon closing the doors. We humans have a habit to adapt to a new situation over time. And unfortunately, the 'new normal' was not about coming to the studio each day. Also, respect that the teachers may have had other occupancies during these months. Their weekly schedule might have changed substantially as well. Give them time to adapt. Be patient.
On a practical note, make sure your staff is more than up to speed with all precautions you have taken. Not only for them to follow up on these, but for them to be able to answer possible questions from yogis as well.
Checking in
In most regions, it's even regulated. You have to ask your yogis how they are feeling, upon entering the studio. Next to regulation, it may also turn into a new habit. Just checking in if everyone's feeling healthy. Feeling comfortable. It'll just be another way of formulating 'How are you doing?'.
Having this said, there is a lot more to it. You will want to continuously inquire with your yogis on their health. How they are doing at that specific moment. Optimally even before they visit your studio. There are a few easy steps you can take, 'automating' these frequent check-ins before each class.
Using Momoyoga, you can configure your account as such, that upon each booking the yogi receives a confirmation email. Also, you can enable class reminder emails. Both emails suit perfectly to add a health check-in. For instance, literally follow up with your government's regulations on health advice. Request your yogis to stay home when they do not feel 100%, or have a cold, are sneezing, and so on.
Read all about editing automated emails.
Maybe something more you'd like to add to these emails is your policy on class cancellations. Especially due to health issues. For instance, mention that with this booking, a credit is taken from their respective class pass. The credit will be refunded when the yogi can not come to class due to possible health issues.
Hygiene comes first

So your doors can be opened again? Well. Mind the doors! These will be touched :) If your studio is situated in a warm climate, it's easy. Make sure the doors are open. Use a rope, tape, remove the doors entirely, or whatsoever. When this is not feasible for your studio, there are more ways to go. For instance, have a sanitizer or disinfectant station right next to your door. Put up a sign and request yogis to clean their hands upon entry.
Other considerations on hygiene:
Do you provide yoga mats? Or do you want your yogis to bring their own? Is this a time to rent out (or start selling) mats and yoga equipment (blocks, straps, towels, etc) to your yogis?

How and how often do you clean the studio? The floor, the handles, the accessories, and so on. What can your yogis do in here? Maybe this would be a good opportunity to introduce your yogis to this thing called

Karma yoga.

Are there any parking spots? Outdoor facilities where your yogis can wait before entering the studio? Maybe create a designated 'waiting area' where yogis can wait for class with a safe distance from each other.

If you have dressing rooms, showers, and such facilities, it's recommended to keep these closed until further notice. Actively communicate this, so that your yogis will arrive in their yoga outfits and are 'ready to rock' upon arrival.

Minimize toilet use by only having a single toilet available. Put up instructions and equipment for the yogis to clean the toilet, sink, door handles, etc upon entry and exit.

What is the preferred routine before class starts (take off shoes, wash hands, enter the room and pick a spot) and what is the preferred routine after class (disinfect equipment, roll up and stash away mats, blocks or blankets)
1.5 meter, 6 foot, make space!
It's everywhere: Keep your distance. But what does this mean for your specific yoga studio? Can you reposition the yoga mats in such a way that the 1.5 meter or 6-foot distance is respected? What does this mean for the mat-count in general? And what is the maximum allowed venue capacity in your country currently? These are just some things to take in mind upon reopening your doors.
First, let us take a look at how your yogis enter your studio. Is there a room/space in which they (usually) wait before class? Optimally, you would want a new class to enter the studio or classroom as one group. If possible, entering via one door and exiting via another. This way you prevent people from crossing each other in hallways, walking back and forth. It's best to actually guide the yogis through your venue. Create a walking route. Put up signs. Maybe make use of natural ways to divide rooms and hallways. What about using pots and plants or flowers?
When your practice has 'back-to-back' classes, provide ways for yogis to be able to wait before entering. Or simply ask them to wait in their car/outside until previous class attendees vacate. This to maintain your venue's capacity ánd respect social distancing. Communicate these guidelines in a playbook to your yogis upfront via email. See more on this in the Communicate section below.
Then when class is on. How do you make sure distance is respected during practice? You could apply tape, or again find a natural way of marking positions and distribute the yoga mats evenly in your studio's space. Have all your yogis pick one mat upon entry in one go. Also, make sure all (possibly) needed yoga equipment is within reach for each of your yogis. This could mean abundantly putting straps and a block next to each mat before class. You never know who needs what, as your yogis' conditions can vary per week. In any way, you want to prevent people from walking around, fetching any necessities from a closet, or whatsoever.
One last note on the maximum allowed capacity. As regulations vary per country, region, and date, please frequently check your local government's website for any developments here. What could be regulation today, can change over the course of just a week.
Teaching outdoors
A great way to transition into reopening your studio is teaching (some) classes outdoors. When you have such a possibility at or near your studio, this is great. Nevertheless, we find many studio owners being very creative here. Teaching on a roof, in a parking lot, a nearby park, or wherever. If you do not have such facilities in the near perimeter of your studio, go and spot a location that suits your type of practice best. Options are plenty. Regardless of your whereabouts, in a metropolitan area, or in the midst of the woods. Teaching outside can be a great experience. Both for you and your yogis.
When teaching in different locations, or on a remote location from your studio, it might be useful to share your location online with your yogis. You can do so in the class description in Momoyoga. Make use of your studio management software here. Might you last moment switch location, or if you are not sure if the location is available and suitable for that specific moment, you can opt and share your live location with your yogis. For example via Whatsapp.
The one big challenge to teaching outdoor is the unpredictability of the weather. Of course, this also depends highly on your whereabouts. Though in general, anything can (and will) happen. How much more relaxed when you have a plan B (or C) under your belt. In this, we've also heard various creative options. With a tent being maybe the most basic escape. Possibly you can connect with a local outdoor camp. Ask if you can make use of their facilities 'just in case'. Maybe with that, promote theirs as well!
Read all about teaching outdoors in our Guide to teaching outdoor.
Face masks
Regardless of how you are about it, some of your yogis might show up in the studio wearing face masks. Some challenges may arise here. For example, taking a meditation class. Or any class that is centered around breathing exercises mainly. You might want to look further into the benefits of a pranayama practice during times like these. It improves emotional, physical, and mental health. You've got exercises for every type of practice or goal. Whether it is to heat up, cool down, calm down, improve focus, and so on. Even though the benefits are countless and it calms the nervous system down tremendously, some yogis prefer not to do breathing exercises in a shared, confined space at this time. Respect their personal preference and make sure you've got alternative ways to reach the goal you're aiming for.
Physical adjustments
Some teachers swear by verbal cueing, others by hands-on physical adjustments during the asana practice. Whether you are the type of teacher that prefers one of the above, or both, is completely up to you.
Some practices and corrections ask for physical contact. Possibly, you used to walk around during certain poses. Helping your yogis on their way. Today this might not be possible. It all starts with your own preferred way of working here. Though next is your yogi's choice. Most teachers ask if yogis are comfortable being touched when they welcome a new yogi to the studio. In the past couple of months, the answers might just have changed. Are they still comfortable with physical adjustments at this time, yes or no? A quite simple solution here is to apply a card or piece of paper/wood to each mat. Stating simply 'I am ok to be touched' / 'I do not want to be touched'. For the yogis to flip this over before class starts.
If you as a teacher prefer not to do adjustments at this time, you might want to focus on elaborating the verbal cues during classes. Good verbal cueing is an art. Using speech to get your yogis to move efficiently through their practice. To deepen their poses, find their balance, and to challenge them where needed. This may take a bit of practice and preparation, but you're investing in the quality of all of your future classes.
If you feel like your classes are missing something without hand-on adjustments, be creative! Feel free to play around a bit and search for alternatives that will give your yogis that special feeling. The feeling like time stands still, of energy flowing. Some examples are using aromas, (live) music, or a special guided meditation.
Utilize your online skills
Possibly you've been welcomed to online teaching in the last couple of months. You may even have been 'forced' into using yoga studio management software due to the Covid-19 outbreak. Looking forward, these newly applied skills will remain extremely useful in the future. Even though your taken precautions are sufficient to your eyes, some of your yogis might still be hesitant or feel less comfortable coming back to your studio already. You can only respect their personal preference and choice here. Others might now stay at home easier than before. Taking health prescriptions a lot more seriously. Say a yogi does not feel 100% well on a specific morning. Usually, fit enough to do their yoga practice, but maybe comfortable enough to come to the studio. It's a great opportunity for him/her to still be able to participate in your class. May it be from home. Possibly you can find ways to add a camera to each class. Making it a mix of a physical - and an online yoga class. One note here: Make sure none of your visiting yogis will be on camera. Nor while entering or exiting the studio or room. If this really is not possible to guarantee, ask for your yogi's permission beforehand. Also, consider communicating that your classes will be made available for yogis participating remotely.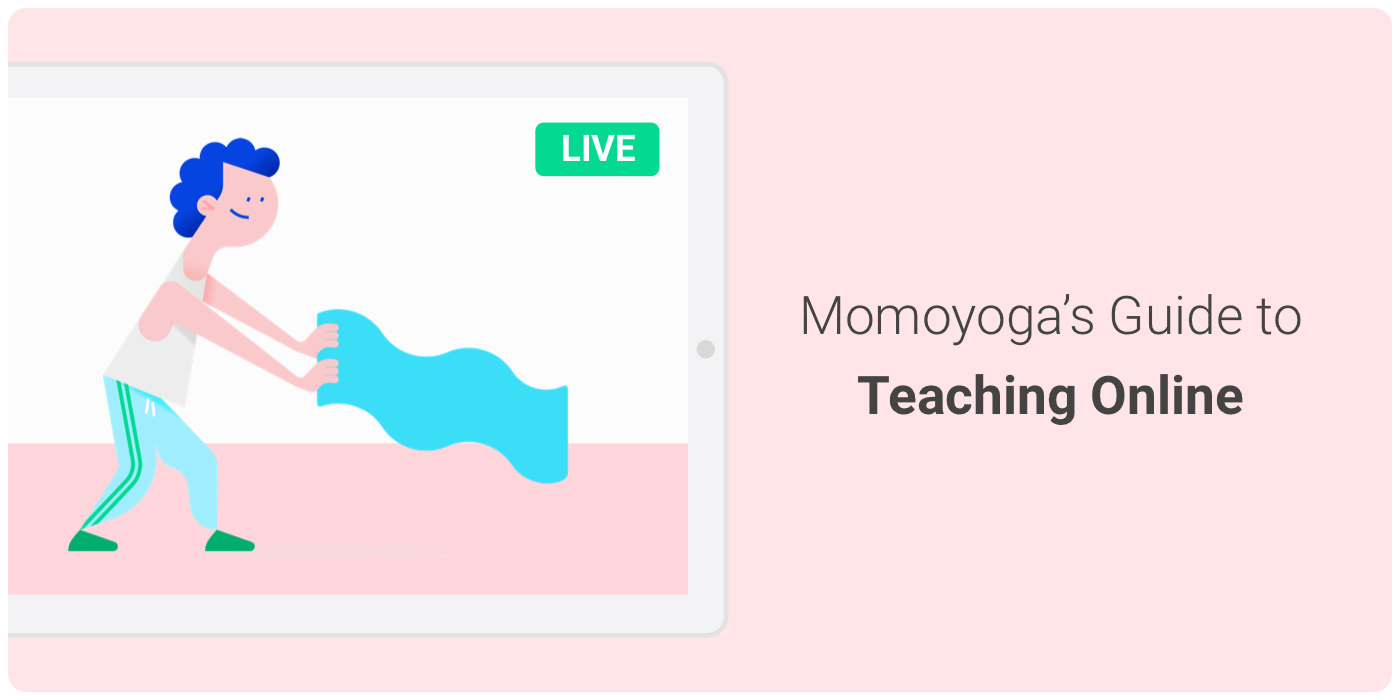 Read all about teaching online in our Definitive Guide to Teaching Online



Communicate, communicate, communicate!
Most likely a mix of the above measurements will fit your studio's practice best. Summarize everything you do in a bit of text or bullets and communicate this all with your entire yogi list via email. For example by creating a newsletter with Mailchimp. Using Momoyoga, you can export your most actual yogis list easily.
Read all about sending a newsletter to your yogis
On a last note: Be open to feedback. In your communication, specifically request feedback from your yogis. For instance about their experience after their first class. How was their 'back to school' experience? You could set up a feedback email (i.e. using Mailchimp) to be sent after every class. Or just simply communicate an email address in your studio. Put up a note saying something like 'We love to hear any ideas or feedback, please let us know or email us at feedback@studionamaste'.



Hi, I'm Vera! One of the humans behind Momoyoga and this guide. We're trying our best to write articles that help and inspire you. If you have any feedback, shoot me a message. 💫