Follow these 7 steps and you'll get your Momoyoga studio account up and running in no time. If you'd like to get a full tour of Momoyoga and all its features, take a video tour.
The 7 steps to setup success:
Take 10 minutes on each step per day to get set up in a week and let the new information sink in, or knock through all of these steps in one go. It's up to you! 💢💪🤨
Step 1: Register with Momoyoga
First things first, register your yoga studio with Momoyoga. Use Momoyoga to schedule your classes online, process bookings and online payments 24/7, and let your yogi's book classes on the go with the Momoyoga app.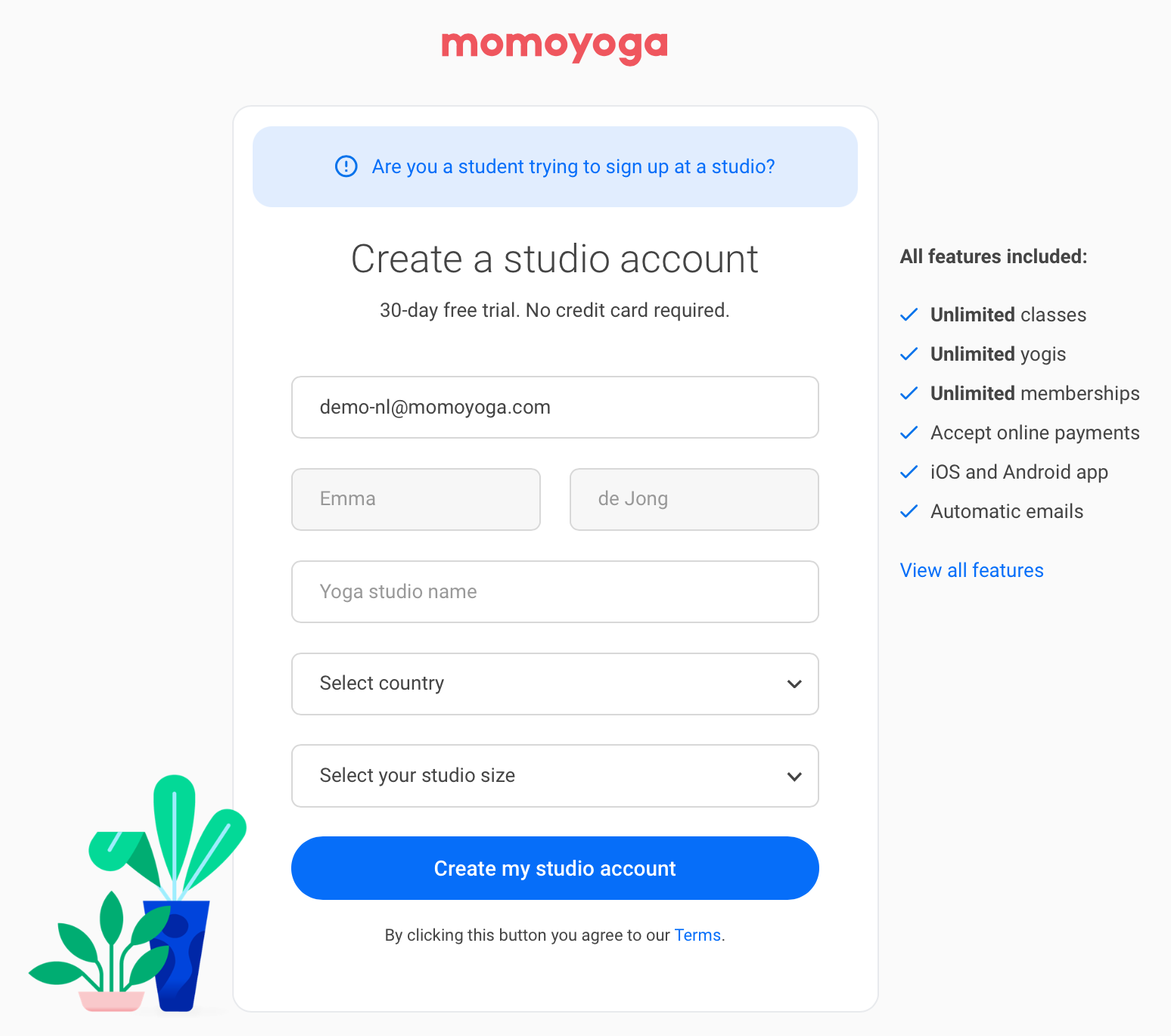 Step 2: Add memberships and class passes
The way Momoyoga works, 1 credit is equal to 1 class. Get in gear by going to More and clicking on Configure memberships and Configure class passes to add new membership and class passes.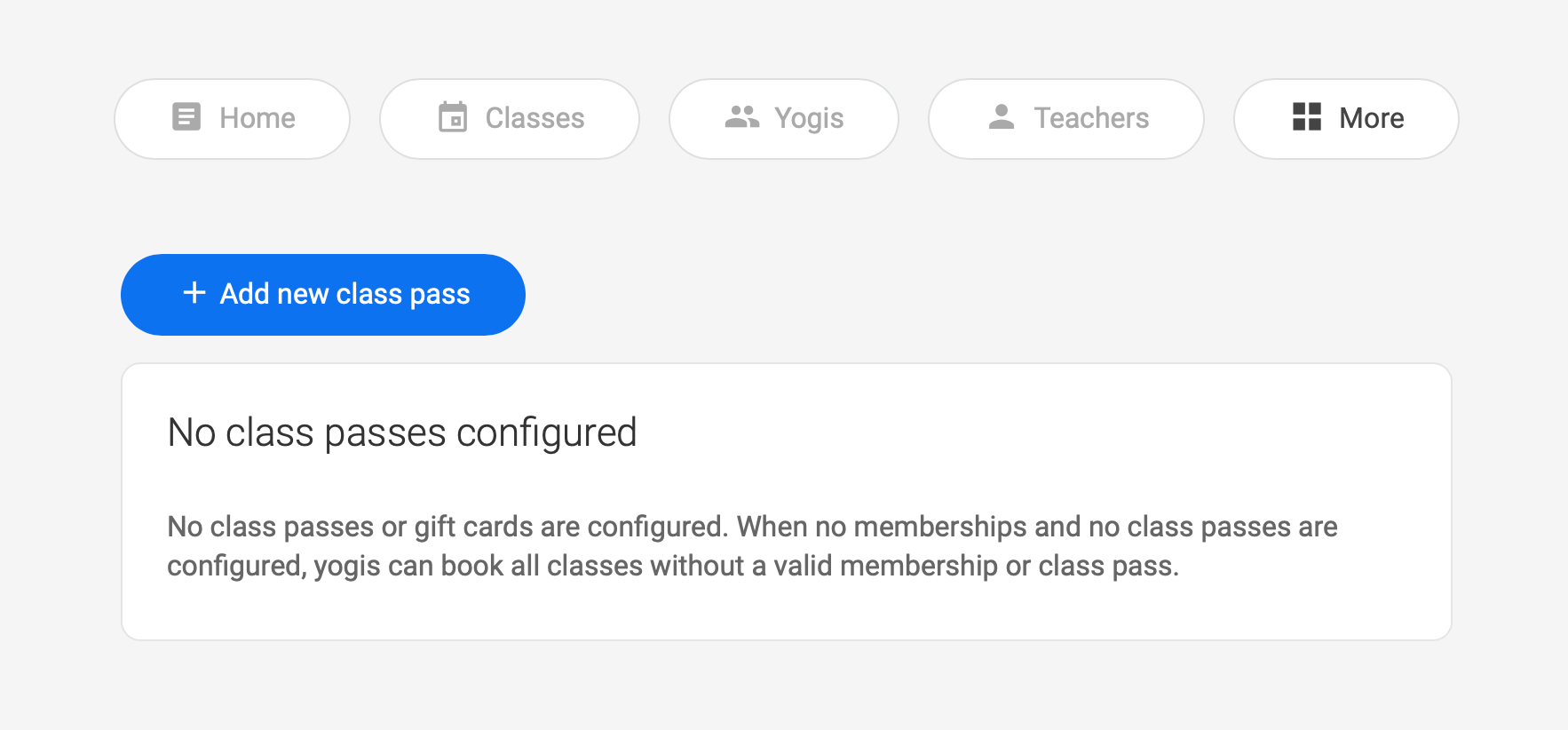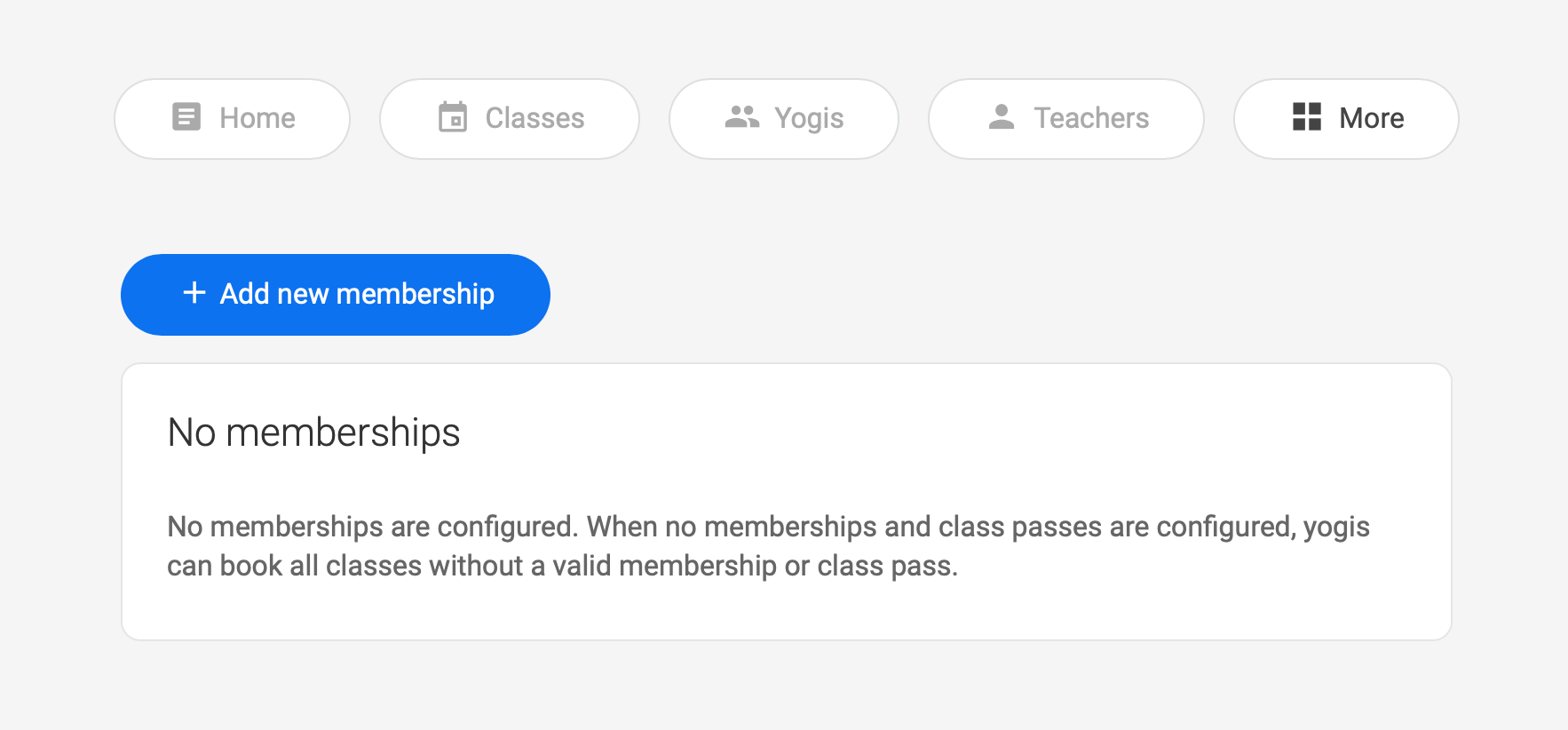 Focus on the top two options for this step:
You have plenty of time to play and explore the rest of the more elaborate options—like setting up recurring memberships—later! 🤓
Step 3: Add (online) classes



This step is all about adding (online) classes to your class schedule. You can choose to add a regular class, an online class or a video class. Momoyoga is built to provide yoga teachers and studios with easy-to-use (online) classes and member administration. What better way to test than by adding (online) classes to your schedule?
First, go to the Classes overview and click on Add class.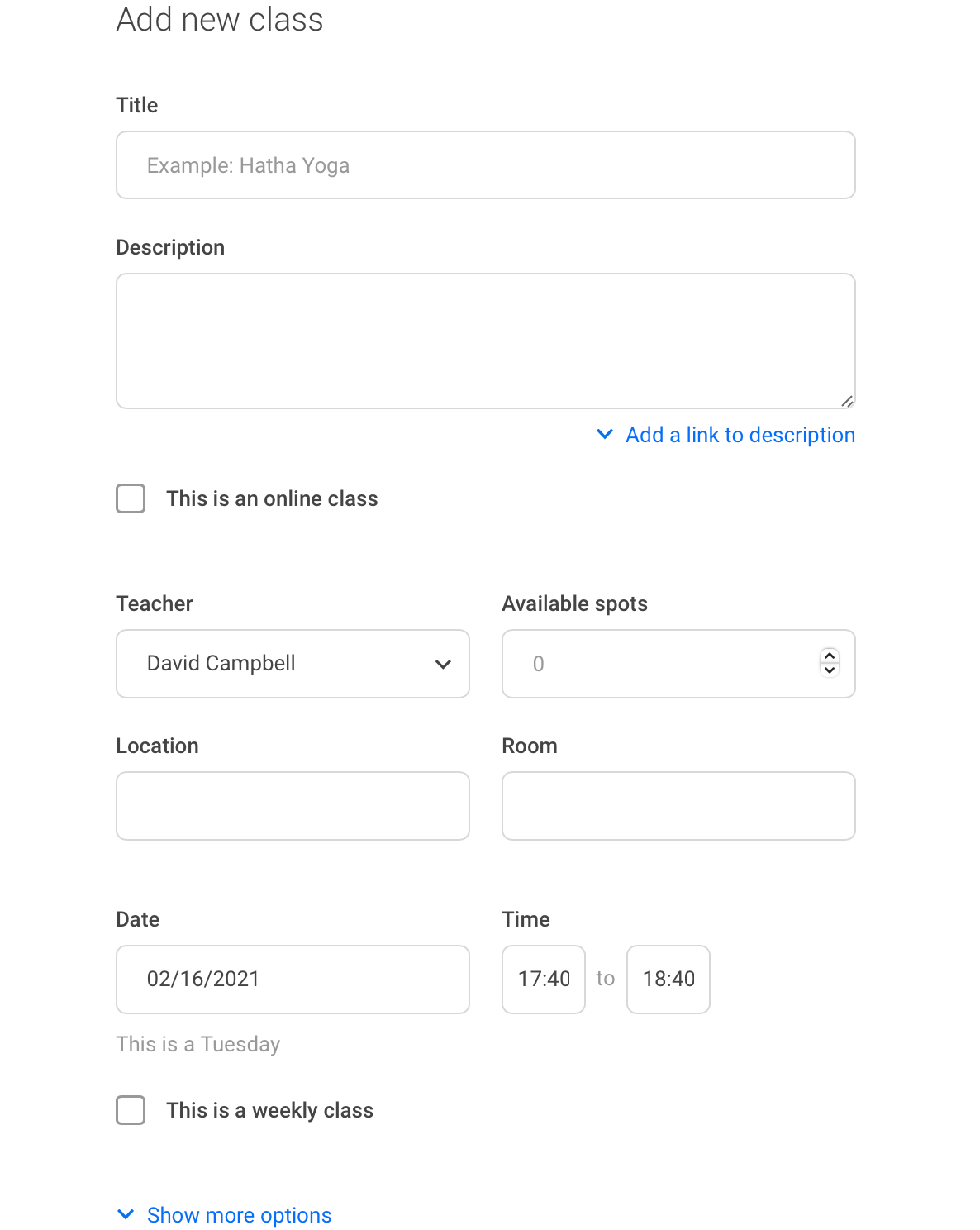 If you would like to add an online class, you can easily select the option This is an online class.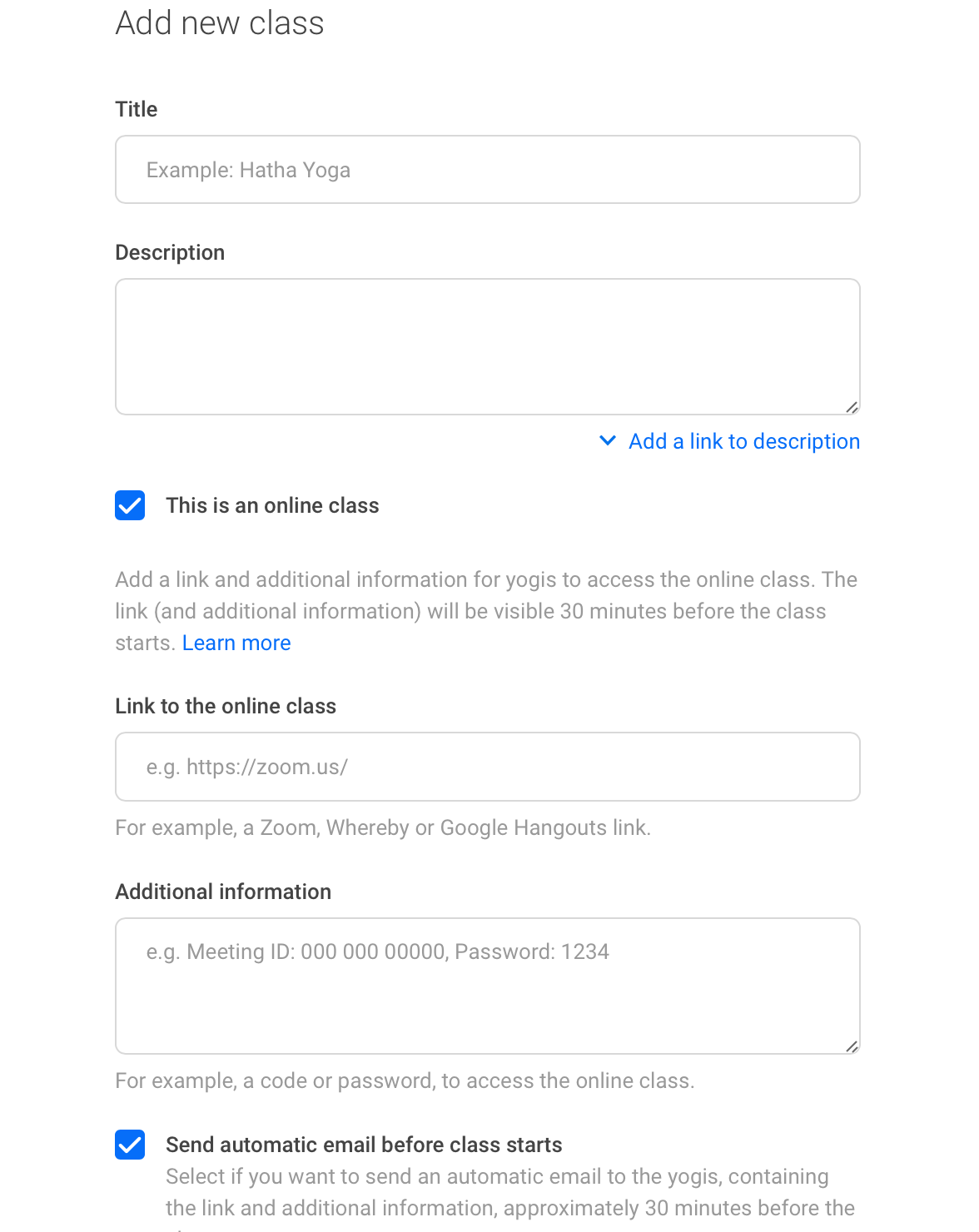 You can easily combine Momoyoga with your video streaming service of choice. 30 minutes before the class starts, the class information regarding the online location and (optionally) required to access information filled out in the Additional information field is published in the class description. Optionally you can configure Momoyoga to send the class (access) information to the yogis automatically.
New to online teaching? Read our step-by-step Guide to Online Teaching and get started in minutes.
Maybe you just want to schedule classes ASAP, or maybe you want to add courses to your program. Easily add the type of classes you prefer with the following guides:
Step 4: Add yogis
First, go to the Yogis overview and click on Add yogi. Fill in the personal details of the respective yogi and click on Submit.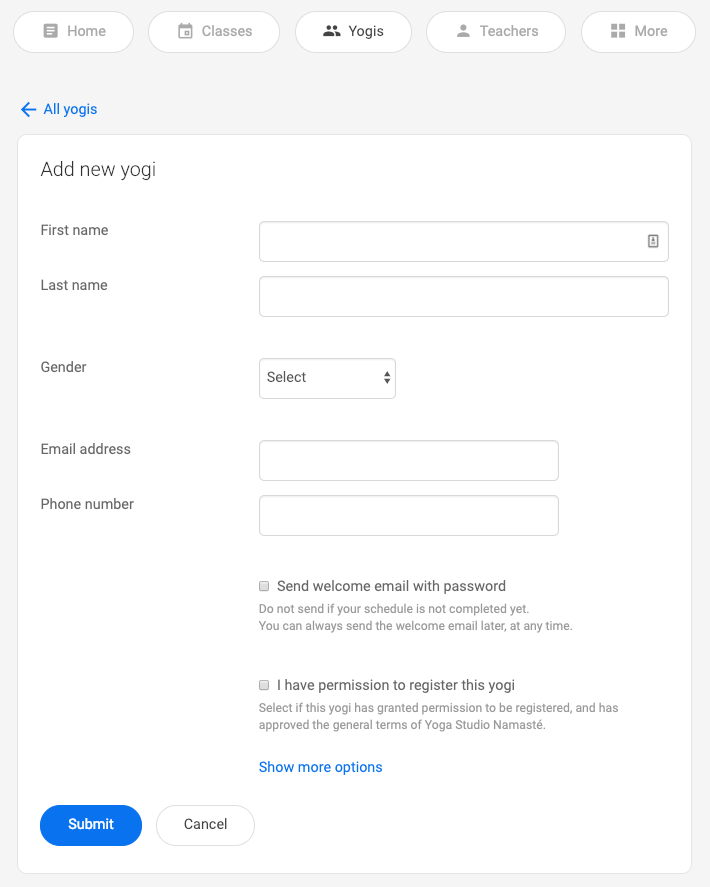 Perhaps you want to send the yogi a welcome email with a password straight away. Perhaps you want to import an entire member list into Momoyoga. Easily set up yogi profiles to your liking with these more elaborate articles:
Note: When you create a yogi profile, the yogi will not receive an email confirmation. Only when you select to send the welcome email to a yogi, will the yogi receive an email.
Step 5: Add ongoing class passes or memberships to the yogi profiles
First, go to the Yogis overview and click on the respective yogi profile. Click on Add membership or class pass on the right. Here, you will find an overview of all the products you've added to your Momoyoga account. When you have selected and assigned a product, you can optionally directly edit the credit and validity period manually. You can do so by clicking on the pencil icon that has appeared behind the class pass or membership.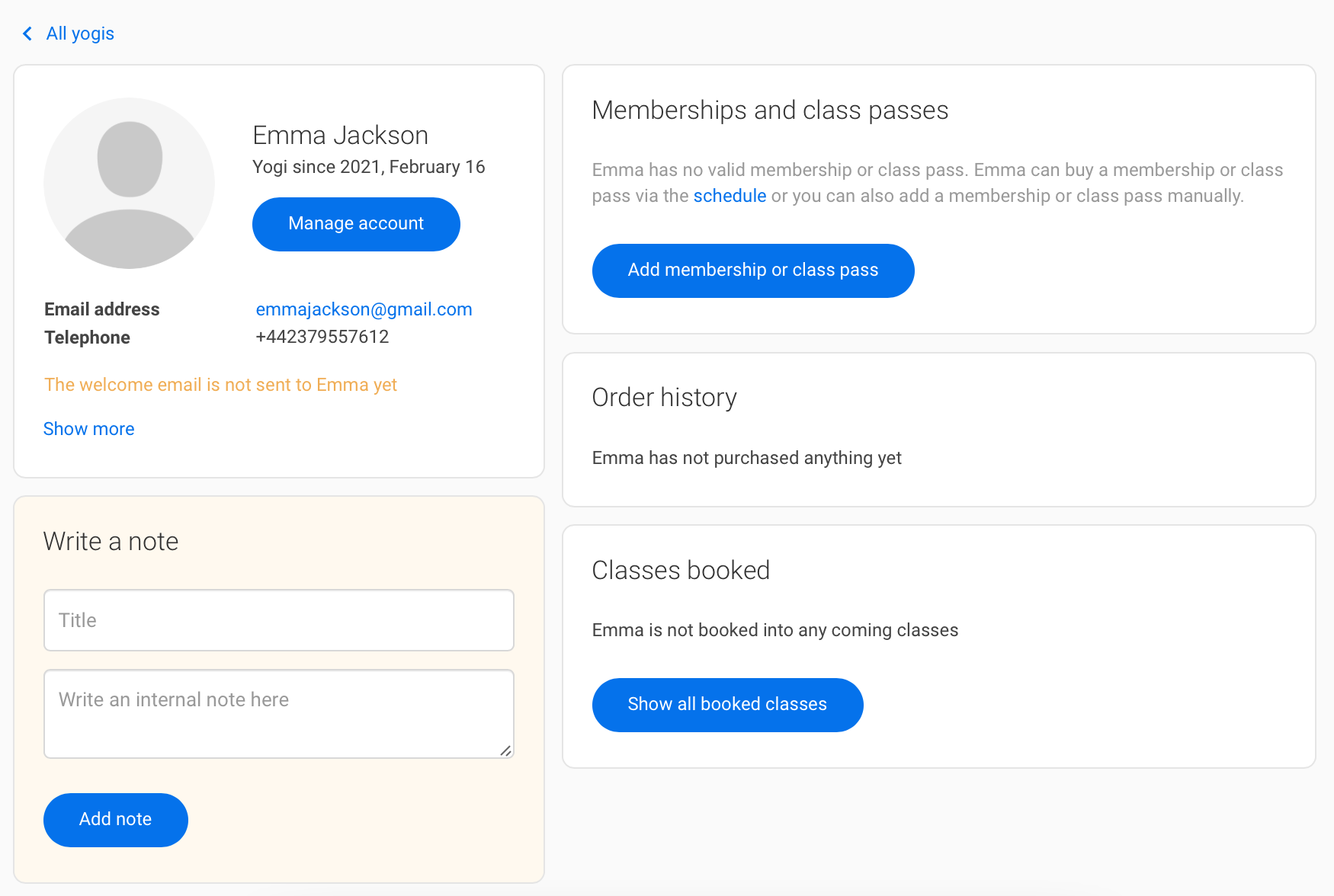 Step 6: Activate your yoga studio settings in one go
You can easily set up your yoga studio settings in one go. First, go to the More overview and customize the settings to your liking. Add your preferred payment methods, set a cancellation period and booking window and/or edit the email templates.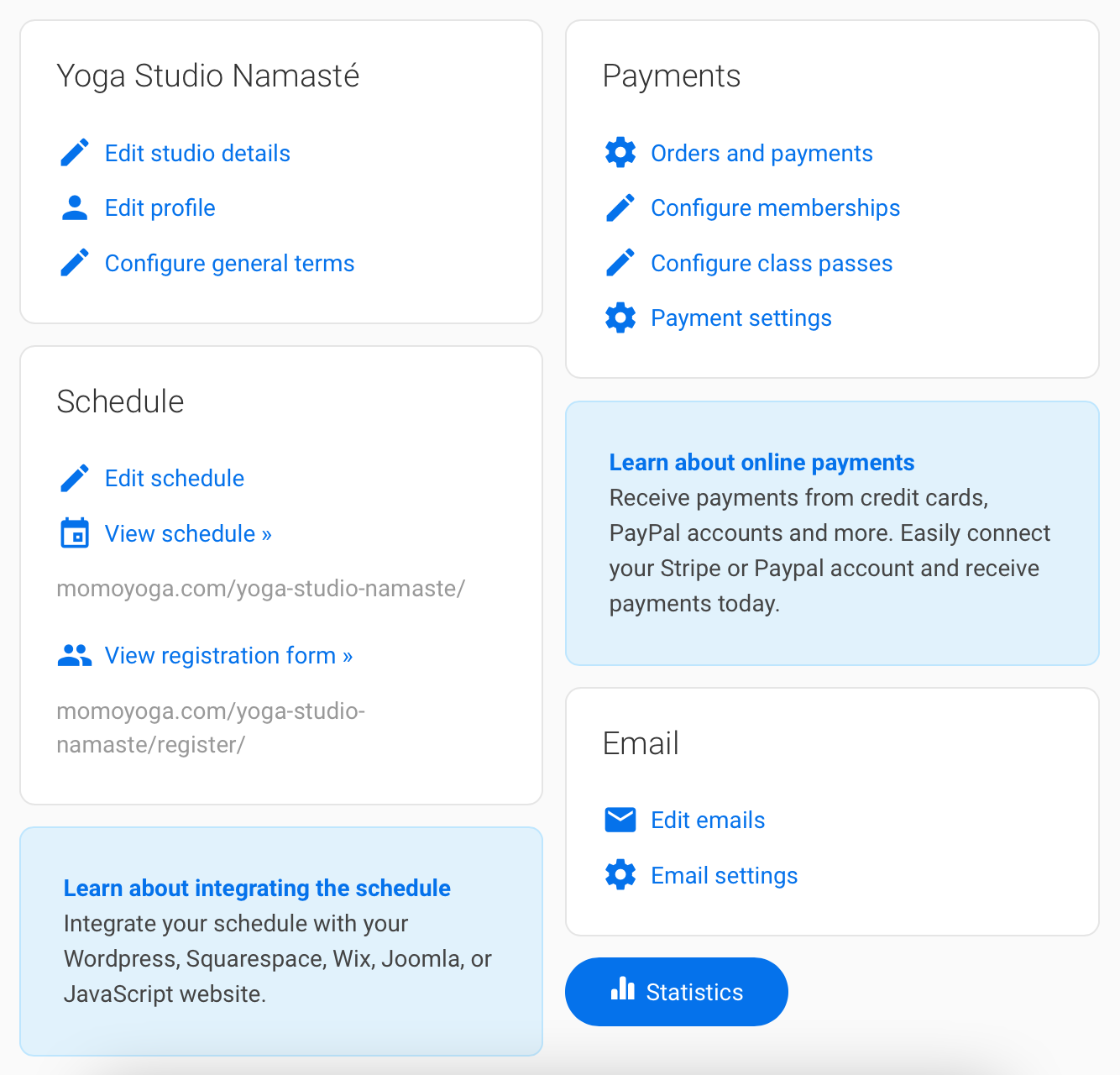 Step 7: Send a welcome email to your yogis



Before you head off, you might want to wish your new yogis a warm welcome. Sending a welcome email to your yogis allows them to start booking classes and purchasing memberships.
Would you like to support your yogis with the onboarding process? We've written a super handy article where you can download a guide to share with your yogis. Or you can download one of our cool social media templates!
Once you've got these steps under control, there's plenty more to explore in Momoyoga. Continue your journey by browsing through our
Help Center
. Check out our
setup guides
to find out exactly how to set up your Momoyoga account. Reach out to our helpful customer success team through info@momoyoga.com to hone your Momoyoga experience.